Get Started
Overview
This system consumes data from the Twitter Streaming API, manipulates the data using a series of Heroku apps, and generates a dynamic visualization of the manipulated data.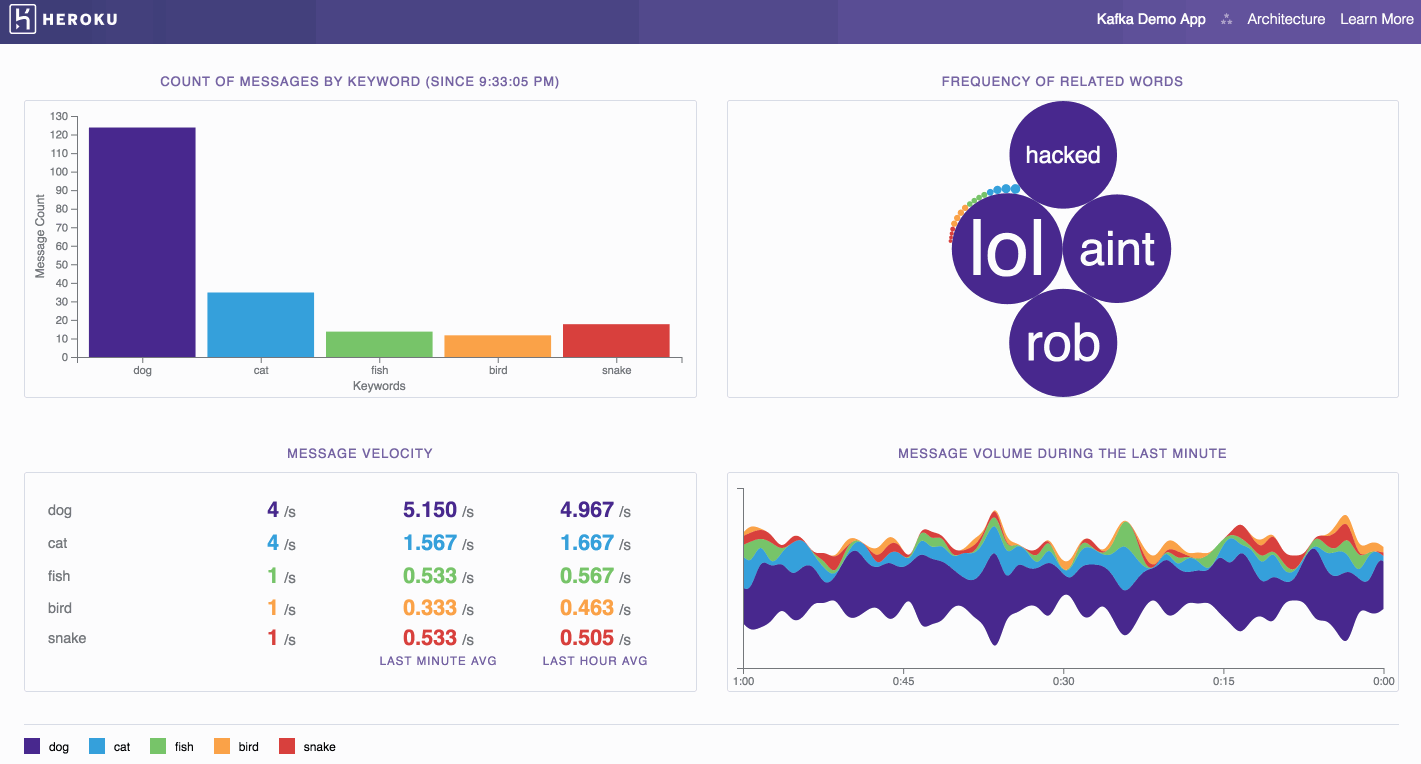 The architecture uses five Heroku apps, each serving a different role in the data pipeline.
Here are instructions to deploy the full system. See further below for an architecture diagram explaining the steps through which the data flows.
Pre-Requisites
Deploy
Configuration Options
Switch palette between Heroku and Salesforce colors
By default a Heroku-inspired color palette is used in the Visualization web app. This can be changed to a Salesforce-inspired color palette by setting the SALESFORCE_THEME environment variable to true.
Change or add tracked keywords
The data visualization has been tested with up to five keywords. It looks best with three to five. You may use more or less, but the data visualization may not behave as expected.
Create the necessary Kafka topics. This may be done with the Heroku CLI or from the Kafka on Heroku dashboard. Three topics are required for each keyword. They must be named using the following format: dog-keyword, dog-aggregate, dog-relatedwords (an example if the keyword were 'dog').
Update configuration of the Data Ingest app. The environment variable TWITTER_TRACK_TERMS must be a comma-separated list of all keywords you want to track. e.g. dog,cat,fish
Update configuration of the Data Fanout app similar to the Data Ingest app. The environment variable TWITTER_TRACK_TERMS must be a comma-separated list of all keywords you want to track. e.g. dog,cat,fish
Update the Procfile for the Aggregate Statistics Calculation app to include a process for each keyword.
Update the Procfile for the Related Terms Generation app to include a process for each keyword.
Update the configuration of the Visualization app similar to the Data Ingest and Data Fanout apps. The environment variable TWITTER_TRACK_TERMS must be a comma-separated list of all keywords you want to track. e.g. dog,cat,fish